Greetings from the Founder
Joon-Shik Shin,
O.M.D., Ph.D.
We all want to be healthy; it's one of our basic needs.
However, we live in a society where we often consider others before ourselves.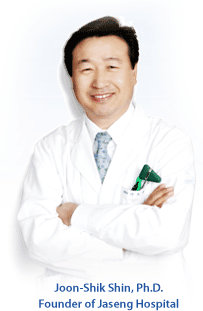 At times it can seem as if everything we need to do keeps piling up. We are living in a social environment where we often consider others before ourselves. One could say that we are exhausting the principle components of society which we should be taking care of, like individual wellbeing and the functionality of the family unit. This being an information-oriented age, we are flooded daily with new information, which can also be overwhelming and burdensome.
I advocate that everyone has a self-healing ability within them—"Jasengryuk" in Korean—and the source of that ability is "love." The quickest way to a healthy life is to live with passion and a positive attitude.
I will strive to remain devoted to delivering you beneficial information. I hope you all live a happy and vigorous life.
Yours truly,
Dr. Joon-Shik Shin
Joon-Shik Shin Ph.D.
Chairman and founder of Jaseng Hospital of Korean Medicine
Dr. Joon-Shik Shin founded Jaseng in 1990 and was appointed Chairman of Jaseng Hospital of Korean Medicine and Jaseng Medical Group in 1998. Since the inception of the initial clinic, 14 more branches were established in Korea and California, USA with a total of 280 doctors. Dr. Shin is Jaseng's pioneer, and the hospital was distinguished as Korea's leading Oriental hospital specializing in joint and spine conditions by the Ministry of Health and Welfare in 2007. His other roles include Chairman of the Korean Oriental Medical Hospital Association, the Korean Society of Chuna Manual Medicine for Spine & Nerves, as well as the Board Director of the International Oriental Medical Research Institute in Irvine, CA, USA.
A gifted Oriental medical doctor and researcher, Dr. Shin is known internationally for his contributions to spine and joint treatment. He has published more than 30 books, 50 papers, 700 articles in relation to HIVD and general health, and acquired 16 Korean patents and 3 U.S. patents. The most groundbreaking of his extensive list of achievements is the attainment of the U.S. and Korean Patents for "Shinbarometin," the core ingredient in Chuna medicine that was acquired in 2003. Research conducted by the Natural Products Research Institute of Seoul National University confirmed the substance Shinbarometin to be an effective anti-inflammatory agent, as well as an aid in bone regeneration and nerve restoration.
Dr. Shin strongly advocates educating others on Korean medicine. He lectures and trains medical specialists from the University of California, Irvine Medical School in the United States and Al-Azhar University Medical School in Egypt. As a Ph.D. alumnus of Kyung Hee University's graduate school in Seoul, he also contributes to the College of Oriental Medicine as an adjunct professor.
This technique is highly effective in reducing musculoskeletal pain and increasing mobility immediately. Dr. Shin's research, dedication, and innovation were awarded with the Best Korean Medical Prize by the Korean Health Industry in 2008, Korea's Best Leadership Prize by Dale Carnegie Training Korea, and the Ministry of Health & Welfare Commendation in 2007 among many others.